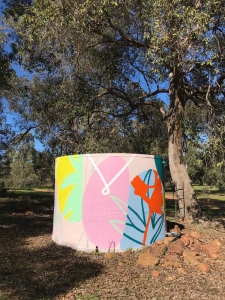 Chittering water Tank
2020
I enjoyed an Artist in Residency at the fabulous @chittering_acres_studio_ What did I love about it? Everything! The beautiful bush land setting with stunning views; the serenity away from the constant siren/train/industrial noise of my city digs; the stellar company of my painting assistants and hosts; the unique hand built dwellings… oh, and the painting! It was a treat painting outdoors and transforming the ugly water tank. I welcome the next road trip so if you have a water tank or something similar, let's chat!
My work often references balance in its many forms through the layering of shapes. I visualise the artwork in a 3D way when designing, stacking shapes and lines like a sculptural work.