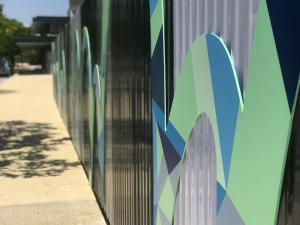 Public Art North Coogee
2019
My Perth public art commission looking bright and summery at a new early learning centre in North Coogee.
Fabricated from aluminium and hand painted, the work spans over 17m along the boundary fence.
'The design uses an expressive graphic shape which often recurs in my artworks in different forms. It signifies many things, among them the vibrancy and energy of life. The organic shape references the surrounding natural coastal environment. The painted geometric design is based upon the sciences and provides an interesting contrast, while also connecting the artwork with the built form.'
I've received different interpretations by several people already, one of the areas I enjoy about abstraction.
It was a pleasure working with Wallace PM and congrats go to the team at BADGE Constructions on the stunning build. Thanks to Custom Aluminium, ART ON THE MOVE for the workshop space and Sean Byford for his assistance with painting and installation (sweltering conditions but we were blessed with the occasional breeze 😆).
Are you seeking to commission public art Perth or public art Western Australia? Please send me an email and we can chat about your project. If you'd like to know more about the public art services in Perth, please visit CURATE publik, the public art consultancy firm of which I am a partner.
'CURATE publik curate contemporary public art focused on innovation, exploration and artistic integrity. We employ a multi-disciplinary approach combining the expertise of a practicing artist, architect and installation manager. Our collaborative approach generates mural, sculptural and electronic-media art which meaningfully contributes to its context. We also generate arts strategies and policy to establish a strong supporting framework for the arts.'