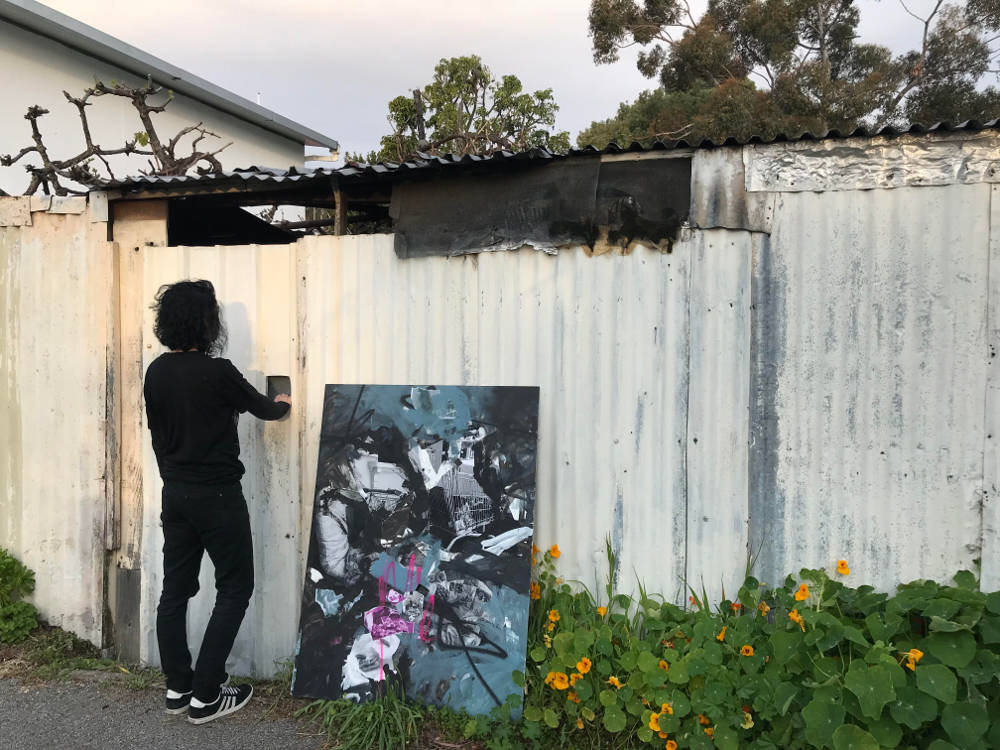 Exhibitor, Lawley Art Auction 2019
Saturday June 15
65 Woodsome Street, Mount Lawley
Come join us for a fine evening with over 100 stunning artworks available from established and emerging WA artists, both at live auction and in our prestigious Irving Gallery, all in aid of funding enhancement programs for students in the Specialist Visual & Performing Arts and Music programs at Mt Lawley Senior High School. I have a couple of original paintings up for grabs!
5:00 PM – 6:45 PM: 
Viewing of artworks for auction and in Irving Gallery, canapes, bar, live entertainment
6:45 PM – 7:00 PM: 
Official opening and welcome, raffle draw, and announcement of People's Choice Award
7:00 PM – 9:30 PM: 
Hammer down for live auction
Exhibitor, City of Melville Art Award 2019
September 14-22
10 Almondbury Road Booragoon
I have a new mixed media artwork in the exhibition, which includes around 250 artworks. Head here for more info.
SOLO EXHIBITIONS
Chronicle (Digital Version), Screenwest Yagan Square digital tower, June – December 2018
Archival, Manning Community Centre, June 2017 – January 2018
Hybrid, The Bird, Northbridge, July – August 2017
Chronicle, Museum of Perth, July – August 2016
Illuminated, City of Vincent Lightbox Laneway, March – April 2016
Interrelation, 108 St George's Tce Perth, sponsored by Arts Brook eld, April 2016
To All the (Boys) I've Loved Before, X-Wray Cafe, Fremantle Festival, October 2014
Divergent, Rendezvous Hotel Scarborough, Summerset Arts Festival, January 2014
SELECT GROUP EXHIBITIONS
Artsource Galvanise, 2018
Lawley Art Auction, MLSHS, 2018, 2017, 2016, 2015, 2014, 2013
Churchlands Senior High School Art Exhibition, 2018, 2017
Art for Zero, PS Art Space, December 2016
Perth: A Guide for the Curious, Parallels Between Architecture and Fashion, Claremont Quarter, September 2016
Antecedent, Grand Lane Light Locker, May 2016
A Stray Alien, Moores Art Building, February 2016
PUBLIC: Salon, curated by FORM, March 2015
Urban Icons, Buratti Fine Art, December 2015
AWARDS
Finalist, Minnawarra Art Awards, 2019, 2018, 2017, 2016, 2015, 2014
Finalist, City of Stirling Blink Photography Awards, 2018
Finalist, City of Busselton Art Award, 2018, 2017
Highly Commended, City of South Perth Emerging Artist Award 2018
Highly Commended, Town of Bassendean Visual Art Award 2018
Finalist, City of Joondalup 2018 Community Invitation Art Award
Finalist and People's Choice Award Winner Perth, Cliftons Art Prize, 2017
Finalist, City of South Perth Emerging Artist Award, 2017, 2013
Highly Commended, City of Rockingham Art Award, 2017
Finalist, Hip on Heritage Short Film Festival, 2016
Finalist, Town of Claremont Art Awards, 2016, 2015
Finalist, City of Rockingham Art Awards, 2015
Finalist, Black Swan Heritage Prize, 2014, 2013
Highly Commended, Freedom School Group Show, 2013
Winner Best Local Artist, Bremick Emerging Art Exhibition, 2012